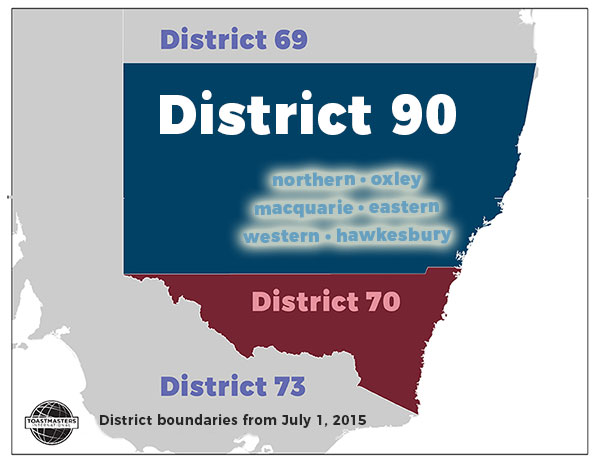 Toastmasters District 90 covers clubs in New South Wales, broadly north of Sydney Harbour and the Parramatta River (and a line running due west). It was formed when the original NSW/ACT District (District 70) was reformed into two to provide better service to, and more leadership opportunities for, members.
This website is provided mainly for the benefit of members. More information about Toastmasters generally can be obtained from the Toastmasters NSW/ACT (currently under development) and Toastmasters International websites (see links below).
District 90 has around 3,000 members in 150 clubs organised into 30 Areas and six Divisions...
EASTERN Division (Newcastle and Central Coast), HAWKESBURY (broadly Sydney North Shore east of the Pacific Highway), MACQUARIE (broadly central northern and north west suburbs of Sydney), NORTHERN (northern NSW west of the Great Dividing Range), OXLEY (northern NSW east of the Great Dividing Range) and WESTERN (western Sydney north of the Parramatta River and west to the South Australia border).